South Florida's Top Design Inspiration
Stark would like to introduce THE FIKA WEAVE COLLECTION. Knotted with fine wools, each piece in the collection is made entirely by hand, resulting in designs that are unsurpassed in quality and brimming with artisan-crafted character. Each rug begins with freshly spun and dyed yarn, which is then hand-knotted on a loom to create a pattern that varies slightly from rug to rug. To finish, the rugs are hand-washed, dried in natural sunlight, and hand-serged for a clean, crisp edge. Visit our showroom or starkcarpet.com to learn more.
JF Fabrics Textured Wallpaper
Did you know that JFFabrics has textured wallpaper? This is a simple way to add character or a statement piece to a room! Window Designs by Sonia is located in the Hollywood Design Center / DCOH, suite 10. To find out more, visit our website at https://windowdesignsbysonia.com
This 100% natural fibre collection shows raffia in a new light. In contrast to its more "raw" signature incarnations, it expresses a very contemporary universe where the inspirations of painters and great architects mingle through a resolutely graphic approach: geometric layouts. Inspired by the layout work of Essence de Bois, it is composed of real puzzles piece by piece, positioning and repositioning the cut-outs at will to create dense, graphic and rich imaginary universes.
Lucite & Nickel "Curule" Form Benches
Pair of American modern upholstered benches with chunky lucite cylinders on each side, resting on nickel legs. These are part of Charles Hollis Jones new line which we are proud to represent. These can be ordered in brass as well.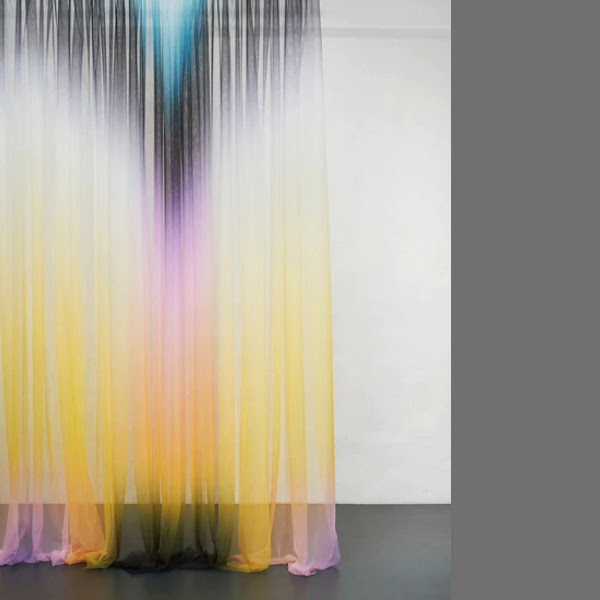 Stunning gradient print on Tulle by artist Justin Morin for 4Spaces. Custom available. See it in our new Hollywood showroom in South Florida Design Park.