South Florida's Top Design Inspiration
Introducing The Ashley Stark Collection at STARK. A new collection by tastemaker and STARK Creative Director Ashley Stark. Discover rugs in Ashley's signature style that mixes modern with classic, old with new, and the expected with the unexpected. Visit STARK Hollywood to see the collection.
Hunter Douglas Silhouette® Window Shadings
Hunter Douglas has a perfect solution to privacy with their Silhouette® Window Shadings collection! You can tilt these shades to varying angles to allow for the perfect amount of privacy and light!

Window Designs by Sonia is located within the Hollywood Design Center / DCOH, Suite 10 or to find out more visit our website at https://windowdesignsbysonia.com
This 100% natural fibre collection shows raffia in a new light. In contrast to its more "raw" signature incarnations, it expresses a very contemporary universe where the inspirations of painters and great architects mingle through a resolutely graphic approach: geometric layouts. Inspired by the layout work of Essence de Bois, it is composed of real puzzles piece by piece, positioning and repositioning the cut-outs at will to create dense, graphic and rich imaginary universes.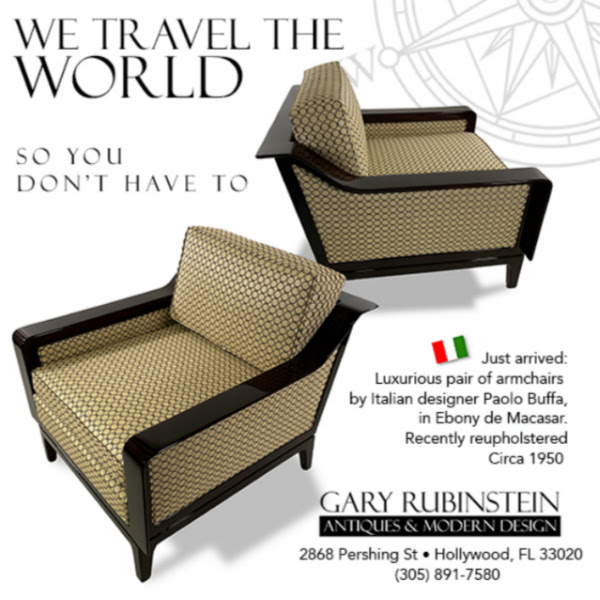 The down-curved arms above splayed tapering legs by Paolo Buffa: These chic chairs were made for the MV Augustus Luxury Ocean Liner, executive stateroom. They are richly detailed in form and the wood is spectacular.
The Vitreus Mirror with its richly tinted concave glass is both a mirror and wall sculpture. Colored glass medallions mounted to its brass frame provide an additional pop of color while a flat clear glass over the concave mirror softens optical distortion. Shown 36″ Diameter plus medallions. Other colors are available.
Save the Date - April 21 Stark - Jerry Pair
To register, simply click HERE or click the image above.
This event will be located at Stark from 8:30-12:00
and Jerry Pair 1:00-4:00 with lunch provided between sessions.
The convergence of science and design- "neuroaesthetics"- is changing the future of the design industry. Scientists and medical professionals at leading institutions such as Johns Hopkins University, the Mayo Clinic, the University of Texas and more, now document the health benefits of fine design.
Now for the first time, residential architects and design professionals are realizing the health benefits they bring to their clients. The Science in Design Summit is a series of educational events happening across the country in 2022. America's leading design centers are stepping up to bring this cutting-edge science to the design industry.
Some of the many highlights will be evidence-based presentations on Neuroaesthetics, Biophilia, Human-Centric Design, Impact of Color and Biometrics, which reveal a design's subliminal impact; all of these influence our stress levels and overall health and well-being.
BENEFITS TO DESIGNERS AND ARCHITECTS:
Be the first in your market to:
Use cutting edge science and technology to improve the health of your clients
Associate your design firm with the country's leading science and medical authorities
Enhance the value proposition of your design practice
Validate what you already know…you improve the health of your clients with beauty and fine design. Science now proves it!